Lifters, Pallet Trolleys / Jacks, Manual Walkie Stackers, Table Trucks, Panel Carts, Trolleys, Drum Lifters, Genie lift type lifters etc
Are you looking for a lifter that has similar functionality to Genie Lifters? Our High Lift Winch Operated Lifter will meet your needs and is ideal for the installation of air conditioners, ducts etc. If you need to move heavy items 4.5m above the ground, our winch operated lifters will meet all WHS requirements. Safely move loads around, up, into and out of vehicles without putting staff at risk.
Capacity: 363kgs max, from
Normal lift: 4500mm
Max lift: 5000 mm with forks inverted
Weight: 144kgs
Fork Size

Length: 630mm
Width: 550mm outside to outside.

Collapsed Dimensions: 1990h x 800w x 900mmd (with fork removed & legs folded up, with quick release mechanism).
The Genie type lifter makes it very easy to load or unload horizontally from vehicles because it has wheels on both ends.
LGA10: 3 – 3.5mH $2300/-    LGA15: 4.5 – 5mH $2700/-     LGA20: 6 – 6.5mH 3300/-     LGA 25: 7.4 -7.9mH 3600/-
Actual pictures of lifter. For Illustration Purposes Only as colour may change.
---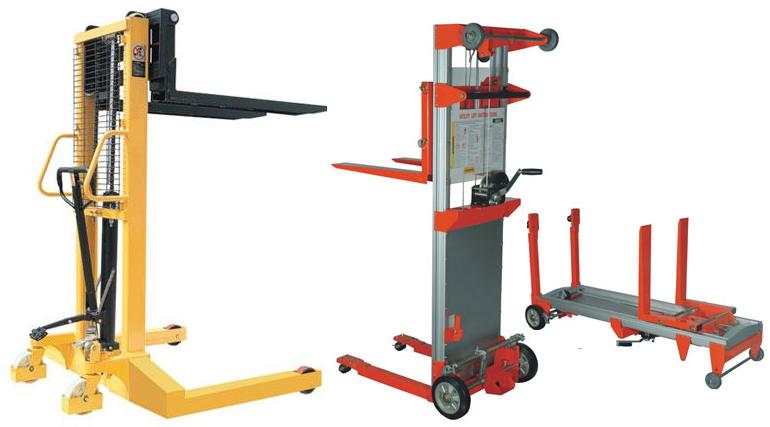 |  $ 1,650/- 1.6m lift kgs | $ 1,495/- Upto 3.1m Lift. 110/180kgs |
| --- | --- |
| MANUAL WALKIE STACKER |  WINCH OPERATED DUCT LIFTER |
| Now with QUICK LIFT PUMP |  Ideal for aircon split unit, roller door installation etc. |
| Straddle Leg. 1000 kg lift |                    3.5mH lift $1650/- |
| 2.5h & 3m Also Available | |
| For Specs Click here. | For Specs Click here. |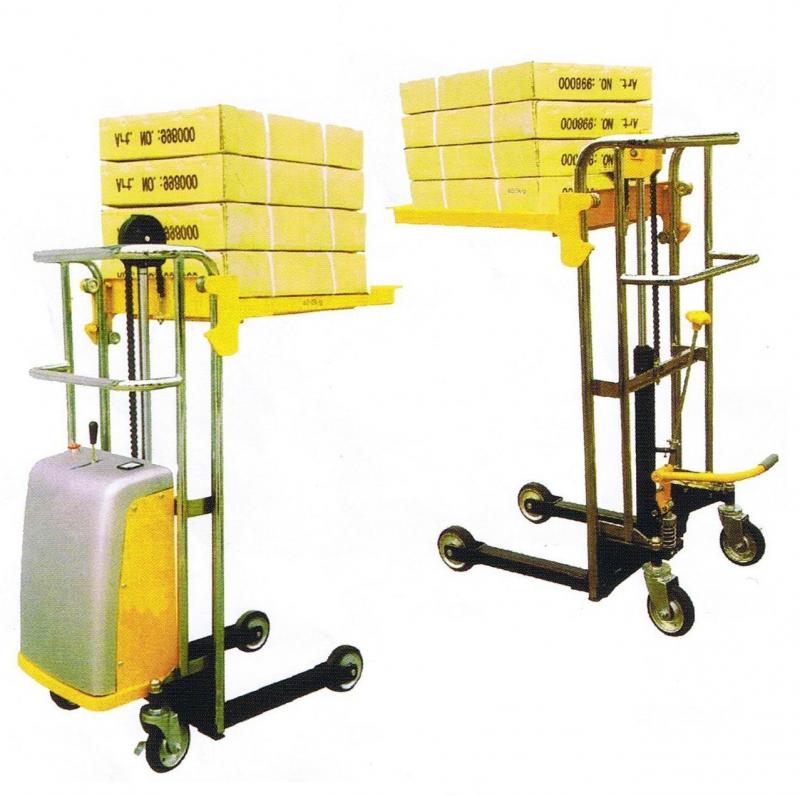 MANUAL PLATFORM STACKER
[The picture on the right side ]  $990/-
400 kg capacity. 1.5m lift. ideal for display stock shelf replenishments etc.
"OTHER MODELS AVAILABLE"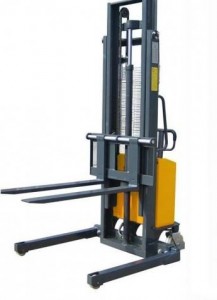 $ POA
SEMI ELECTRIC STACKER  
With adjustable Straddle legs.
1.5 ton maximum lift cpacity. 3m lift.
Lift & lower load electrically, move around
manually like a pallet jack.   With Single phase built in charger.