LIGHT DUTY CANTILEVER RACKING. Made from HEAVY DUTY PALLET RACKING. AVAILABLE EX-STOCK
 2438mmH x 2670mmW x 900mm Overall depth.  600mm deep arms, base + 3 arm levels. Total 4 storage levels. $/- incl gst. LOAD Capacity 450kgs per level. POA
Available EX-Stock, in various configurations, to suit your needs.
Arm Depth ; 600mm-150kg/arm. 750mm- 125kg/arm. 900mm- 100kg/arm. 1000mm-100kg/a
And 1000mm Heavy Duty Arm 250 kgs/arm.Various Heights & Widths as per your requirement.
Very Heavy-duty Cantilever Racking
Very Heavy-duty Cantilever racks with its versatility offer maximum support, strength and capacity for storing lumber and other long, flat items with ease. It is found in daily use in all sectors of industry.
·Robust design, high stability. The uprights and feet are made from hot rolled IPE profile and are bolted together to form a rigid cantilever frame. Large footplates ensure even distribution of the load to the floor.
·Upright construction from bolted post and foot profiles can also be retrofitted to either a single face or double faced systems by changing the foot profile.
·Uprights are bolted together with horizontal braces to form racking rows and reinforced with vertical cross bracing in every fourth racking bays.
·Arms are adjustable every 100mm.
·Bolted cantilever arms.
·Simple assembly with few components.
·Applications range from manual to automatic operation, stationary or mobile racks.
·Racks can be installed indoors or outdoors as required.
·Load capacity up to 14000 kg per upright side based on evenly spaced cantilever arms .
Heavy-duty Cantilever Rack
Heavy-duty Cantilever Racking is particularly suitable for storing long loads, offering the possibility of locating the levels (arms) on one or both sides of the fully independent structure.
Cantilever Racking can range in sizes, gauges and accessories are available to meet all your requirements.
Cantilever arm elevations are easily adjustable to accommodate any bundle size.
Advantages:
·Excellent low-cost storage system!
·Store long products with ease. Unobstructed arms afford easy accessibility with no uprights on the aisle to restrict storage.
·Arms adjust easily on 100mm centers.
·Easy assembly, no special tools required.
Mid-duty Cantilever Rack
Mid-duty Cantilever Rack is a multi-level, high storage, special rack designed to handle many types and sizes of products. With freedom from upright column interference, it allows easier product placement and removal. In its basic form, a one bay Cantilever Rack consists of two vertical columns with horizontal load bearing arms attached by fixing at various levels. The horizontal load bearing arms project out from one or both sides of the upright columns at approximately 90 degrees. These racks are used to store rolls of carpet, lumber, pipe, or any long mid-duty materials.
Light-duty Cantilever Rack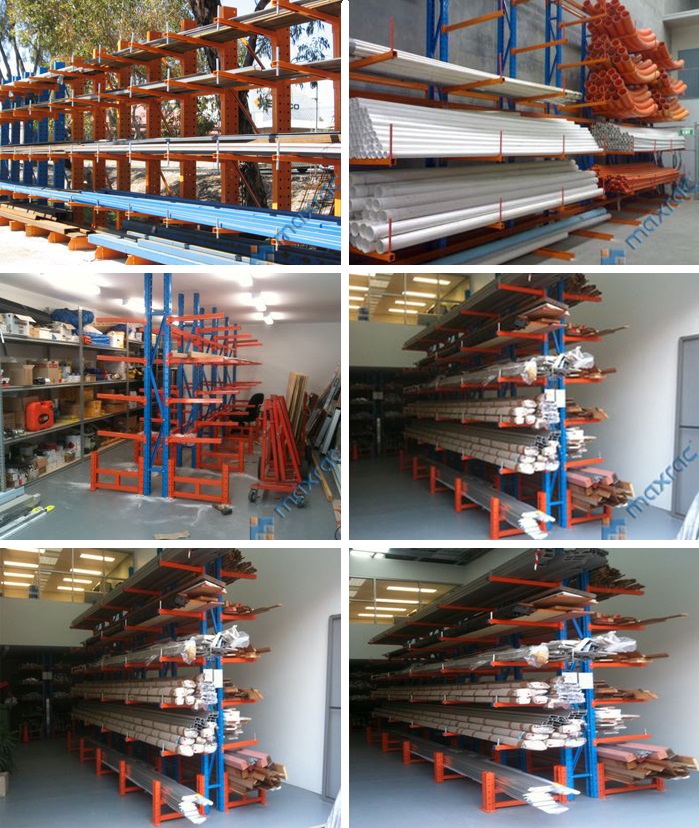 Light-duty Cantilever rack is constructed from Maxrac® pallet racking or longspan shelving. It's a perfect low-cost solution to store long and awkward light-duty oversized goods.
It provides easy accessibility together with support along the length of the item being stored.
It is available in both single sided and double-sided configurations. The double-sided rack provides maximum storage capacity on a single central column while the single sided rack is designed to fit flush against a wall.